PAUL CREAMER, CHAIR
Paul Creamer has served on the Johns Creek Chamber Board of Directors as Secretary since January, 2007. He is a twenty-seven year employee of the Coca-Cola Company, and a nineteen year resident of Johns Creek. He has been married for twenty three years to Amy Creamer, who is the drama teacher at Autrey Mills Middle school. They have two college age daughters.
DAN CALLAHAN - CHAIR ELECT
Dan Callahan is the Director of Facilities Operations at Alcon's John Creek Campus overseeing Facilities and Campus Support Services for the 77-acre site that includes over 900,000 Square Feet of Manufacturing, Research and Development, and Distribution Facilities.
Prior to joining Alcon in 2011 Dan was the Director of Building and Support Services at DeKalb Medical Center from July 1994 until April 2011.  His responsibilities at DeKalb Medical included Facilities, Biomedical Engineering, Environmental Services, Food & Nutrition Services, Construction and Renovation, Laundry Services, and Utilities.
A military veteran he served over twenty years in the United States Army and retired in 1994 as a Chief Warrant Officer.  During his service he had a various assignments including deployment during the Gulf War in South West Asia.   Other overseas assignments included tours in Panama, South Korea, and Italy.
In addition to the Johns Creek Chamber of Commerce,  Dan is also on the Board of Advisors for the Metro Atlanta Chamber and a member of the Building Owners and Managers Association, and International Facilities Management Association.
Dan and his wife Becky have three grown children and five grandchildren who all reside in the Atlanta Area.
When not working, Dan enjoys spending time with his family and most outdoor activities including golf, fishing, boating, and backpacking.
SUSAN GRISSOM, PAST CHAIR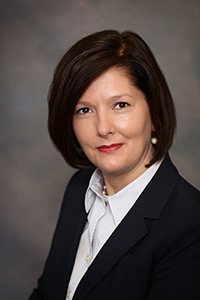 Mrs. Grissom is the Attorney at Grissom Law, LLC, practicing in the areas of Corporate/Business Law, Trusts, and Estate Planning. Mrs. Grissom works with families to determine their Estate Planning Needs; draft Wills, Trusts and other documents to implement Estate Plans; and serves as Executor and/or Trustee for many clients. In addition, Mrs. Grissom works with small businesses as general counsel, organizing entities, preparing and reviewing contracts, and preparing and reviewing business plans and various other documents. Grissom Law is located in Johns Creek.
Prior to establishing Grissom Law, LLC, Mrs. Grissom worked with IT companies and government agencies from the local level in Knox County Tennessee to the United States Department of Energy, Department of State and the Nuclear Regulatory Commission to the United Nations. During this time, Mrs. Grissom managed teams implementing and maintaining systems responsible for tracking and accounting for nuclear materials within the United States in compliance with NUREGS and DOE policy as well as in compliance with bilateral treaties the United States is a party to. Mrs. Grissom received her BS from the University of South Carolina and her JD from the Georgia State University College of Law.
Mrs. Grissom is actively involved in her community. In addition to being a member of the inaugural class of Leadership Johns Creek, Inc., Mrs. Grissom serves on the Board of Directors of four other local non-profits, the Johns Creek Chamber of Commerce, Johns Creek Arts Center, Johns Creek Advantage and Peachtree Life Skills, Inc. Mrs. Grissom also served as a member of the Charter Commission for the City of Johns Creek and currently serves on the Johns Creek Planning Commission. Susan and her husband, Bryan, have three children.
KENT DAVIES, PAST CHAIR
Kent Davies is the Vice President of the World Financial Group, as well as the President of the WFG Foundation. WFG's Worldwide Headquarters is located in Johns Creek. As VP, he works with large financial services sales force in both the USA and Canada. As President of the WFG Foundation, he heads up fund raising efforts, operations and grant distribution to help serve those in need across the world. He is also a licensed Life, Accident & Health Agent and Securities Registered Rep, including Supervisory.
Kent also serves as a Board Member on Johns Creek Economic Development Corp helping with 'smart growth' of Johns Creek bringing & growing business and jobs to Johns Creek.
Kent and wife Susan have been married 33 years and met while both attended college at BYU. They have 4 children and 7 grandchildren. Kent also is a community volunteer in many projects, including a program that helps find employment for those in need and directly facilitating an emergency preparedness program involving 200 families through his church. Past positions held include Division Manager for GNC/DCI with responsibility for 1800 franchises and 30 company units and VP of Operations for over 100 restaurants. For recreation Kent enjoys SCUBA diving, travel and spending time with family.
NEIL STEVENS, PAST CHAIR
Neil Stevens has 22 years of broad based banking experience including corporate banking, commercial banking, mortgage banking, retail administration, and construction lending. Additionally, his experience includes strategic planning, providing leadership to senior bankers, strong credit skills and casting an overall vision for a financial institution. He began his career in 1989 with Citizens and Southern (C&S) National Bank (later known as NationsBank and Bank of America). In 2006, Neil was one of the founding executives of KeyWorth Bank and was heavily involved with the board selection and recruiting, recruiting the bank's employees, establishing initial policies and procedures, completing the regulatory applications, and raising the bank's initial capital. He is now COO and President at KeyWorth Bank. Prior to starting KeyWorth Bank, he spent eight years with IronStone Bank where he served as the Area Executive (Area President) for the Georgia market. In this role, he was responsible for running IronStone Bank in Atlanta, including 20 retail branches, the mortgage operation, private banking, business banking, and commercial banking. He had approximately 150 people reporting to him. IronStone Bank's Atlanta operation was approximately $600 million in assets and generated approximately $7 million in net profit a year.
Neil serves on the Georgia Bankers Association's Credit Committee and is involved with both the Gwinnett and North Fulton Chambers of Commerce. He also serves on the LSAC Board of Johns Creek High School and on The Summit Counseling Center Board. Neil is a member and serves on the Grounds Committee at the Atlanta Athletic Club. In addition, he also serves as an elder at Perimeter Church. He is a graduate of Mercer University in Macon, Georgia with a B.B.A. Degree in Business Finance and a B.S. Degree in Communications. He resides in Johns Creek, Georgia with his wife Tricia and two sons Caleb and Colin.
JOHN BEMONT, PRESIDENT & CEO
John Bemont is past Board Chairman of the Johns Creek Chamber of Commerce. He has lived in the Johns Creek area for sixteen years and was until recently, owner of FastFrame of Johns Creek.
John retired from AT&T as Human Resources Director in 1998 at their corporate headquarters in Morristown NJ, after a career of over 30 years serving in operations, marketing and human resources. A corporate relocation specialist, John was a board member of the Employee Relocation Council, a worldwide trade association with over 12,000 members and was elected and served as Chairman of the Board in 1997.
Mr. Bemont has been very active in community organizations having served in leadership roles in the Boy Scouts, the United Way, and various Chambers of Commerce. He is a member of Johns Creek United Methodist Church and serves of the Boards of Directors of both the Johns Creek Advantage and the Johns Creek Foundation.  He enjoys golf, travel and reading. He attended UNC Charlotte and served in the United States Marine Corps reserve.
ANTHONY DE LUCA, MBA, CPA, TREASURER
Mr. DeLuca began his career in accounting at the Florida State Controller's Office. After Graduation, he worked with Big Four and national firms, where he held positions as Senior Auditor and Audit Manager. Most recently, Mr. DeLuca has been providing financial examination services in Georgia, Florida, and South Carolina for the respective Insurance Commissioners. Mr. DeLuca has provided his expertise to Fortune 100 companies as well as closely-held, privately owned businesses in banking, insurance, real estate, manufacturing, and restaurant industries. He has comprehensive experience in auditing of the above industries and is a 401k audit specialist. He has also worked extensively in the field of internal controls as it relates to Section 404 of Sarbanes-Oxley. In addition to serving as a founding member of DLC, Mr. DeLuca gives back to the community by providing extensive support to the annual Susan B. Women's Breast Cancer Walk. Most recently DLC sponsored their first annual golf charity event for the Autism Society of America and Mr. DeLuca plans to continue the golf event every year. Mr. DeLuca enjoys activities with family and friends and is especially fond of visiting Disney World with his nieces and nephews. He is an avid golfer and also enjoys reading and mountain biking in his spare time.
PEGGY TITUS-HALL, CPCC, PCC
Peg Titus-Hall is a certified professional coach with a background in career management and planning. She helps clients learn how to effectively leverage their strengths and professional contributions for strengthened pursuit of their professional objectives.
Peg has experience as a Senior Instructional Designer with Ernst & Young/Intellinex, designing web-based and classroom training for major enterprise reengineering programs for corporate clients including Union Carbide, Lilly Pharmaceuticals, Turner Construction, and American Airlines. She has also worked with nationally known outplacement consulting firms here in Atlanta. Peg specializes in career development and consulting, executive profiles, resume enhancement, interview preparation, job search network development, and DISC assessments.
Peg began her college education at Rutgers University in New Jersey, her native state, and completed her B.A. in Economics at Cleveland State University in Ohio. She holds her coaches certification through The Coaches Training Institute (CTI) and is accredited by the International Coach Federation (ICF) as a Professional Certified Coach. She is Past President of the Johns Creek Symphony Orchestra and holds the title of the original Billy Badge, the main character in the Johns Creek Police Department's Safety Education Program for kindergarteners and first graders. She is also a passionate gardener and photographer.
RON JONES
YVONNE RINER
Yvonne Riner is Co-Founder and Chief Marketing Officer of Über Trade LLC. UberTrade.com is an online B2B barter exchange where businesses trade their products & services with other members – without cash. The company has over 500 businesses and 30 non-profit members, with plans for expansion nationwide. Über Trade, LLC recently won the 2013 Fulton County Small Business Award for Entrepreneurial Success
Yvonne is a seasoned marketing and human resources executive with 20+ years of experience in communications, holistic marketing, talent & organizational development and business strategy on a unit and global level from world leading Fortune 500 companies, Marriott International and InterContinental Hotels Group. In between corporate careers, Yvonne's entrepreneurial spirit led her to establish Riner Associates, providing services for UGA's Terry College of Business, Center for Effective Performance and CRU-Campus Crusade for Christ.
She's invited to speak often on subjects ranging from Women in Executive Leadership, Entrepreneurship, to Customer Service – talking to MBA students at University of Georgia or Atlanta-area business leaders.
Yvonne holds a BS degree in International Business, and a MBA, summa cum laude, from the University of Georgia. She serves as a board member, executive committee member and an ambassador for the Johns Creek Chamber of Commerce and is an ambassador and former Board of Director for the UGA MBA Alumni. Residing in Atlanta, GA with her husband Preston, she enjoys volunteering at North Point Community Church, playing recreational tennis and being a college mom following her son on the golf circuit.
RICHARD DUKES, MD FACEP
Richard Dukes, MD is the owner and CEO of Physicians Express Care with facilities located in Johns Creek and Woodstock, Ga. He is a board certified Emergency Physician at Northside Hospital Cherokee. Dr. Dukes completed his residency in Emergency Medicine at Wayne State University/ Detroit Medical Center in Detroit, Michigan.
Dr. Dukes serves as the Chairman of both the Department of Medicine and the Department of Emergency Medicine at Northside Hospital Cherokee.  He is a fellow in the American College of Emergency Physicians and the Medical Director for Clayton Fire and Emergency Medical Services. Dr. Dukes has been in medical practice for over 12 years in the Atlanta area.  He is involved with numerous universities, serving as clinical teaching faculty.  He provides teaching clerkships for students from Emory University School of Medicine in Atlanta, University of Alabama School of Nursing at Birmingham, Trevecca Nazarene University in Nashville and South University in Savannah.
Dr Dukes enjoys travel, sailing, fishing, reading and is currently getting his pilot's license so that he can find those hard to reach fishing spots!
WHITNEY BRYANT
Whitney Bryant is a Financial Advisor with Financial Strategies of Georgia, specializing in retirement planning and investment management for individuals and small businesses. As a CERTIFIED FINANCIAL PLANNERTMprofessional Whitney's mission is to help clients achieve their financial goals using holistic review and planning strategies. Securities and Investment Advisory services offered through ING Financial Partners. Financial Strategies of Georgia is not a subsidiary of nor controlled by ING Financial Partners.
A native of Atlanta, Whitney graduated with honors from The University of Georgia, where she met her future husband, David. They became members of Perimeter Church after moving to Johns Creek in 2003 and are now the proud parents of two boys, James and Matthew.  Whitney has played soccer for 30 years and is an avocational photographer.
SUSIE DUKE
With 8 years' experience in the financial services industry, Susie Duke joined Transamerica Financial Advisors (TFA) in August of 2012 to recruit, train and mentor a team of independent financial advisors while continuing to maintain her own personal advisory practice. She specializes in retirement planning and helping individuals and business clients with investments, annuities and life insurance needs. Her focus is in the small to mid-market qualified retirement plans (i.e., 401k, 403b, SEP, etc.) and the income planning preparation needed in retirement. She is also building a dedicated team of advisors committed to transforming lives one family at a time.
WARREN HUTMACHER
FREDERICK E. VAN PATTEN, JD, LUTCF
Mr. Van Patten is a Financial and Retirement Planning Specialist with AXA Advisors, LLC, since 1983, with a focus in providing financial services to business owners and individuals, specific to qualified plans and financial planning. During his prestigious career, Mr. Van Patten has been inducted into the Hall of Fame member in 1994 as a Hallmark I Award recipient in 2000, and as a Sterling Group Member.
Receiving his BS from the College of Charleston in 1979 and his JD from Woodrow Wilson College of Law 1982, Mr. Van Patten also completed the Financial Planner Program at Oglethorpe University in 1999 and his Certificate in Retirement Planning from Wharton Business School in 2006.
Amongst Industry Memberships Mr. Van Patten holds are founding member – "The Cutting Edge" study group, Past President - Life Leaders of GA, National Agents Forum – Div I Chairman 2004, MDRT life & qualified member, NAHU – National Association of Health Underwriters, as well as SFSP – Society of Financial Services, and committee member QPS Southeast.
Mr. Van Patten is married, since 1986, to the former Nancy McKee, and has two young adult children - Lauren and Rick. Mr. Van Patten is also actively involved in his community. In addition to being a founding Member and an active Board Member on the Johns Creek Chamber of Commerce, Mr. Van Patten has served as a past President of the Atlanta Lions Club and as a Member of the Atlanta Touchdown Club. His hobbies include dinner club, golf, travel, reading and walking. He is a Member Johns Creek United Methodist Church, as well as a Member in the St. Marlo Fellowship Group.
REES WAITE
Rees is Vice President of the real estate development and construction services team overseeing all manner of improvements, development, and construction-related services. Rees has been with the company for over 18 years. He has extensive development experience with a portfolio totaling more than 6 million square feet, including Johns Creek, Technology Park/Atlanta, and Stanton Springs master-planned mixed use business parks, as well as corporate headquarters for such names as Verizon, Disney, Delta Airlines, and Turner Broadcasting.

Prior to TPA Group, Rees served as Senior Development Director for Holder Properties Atlanta and Director of the Corporate Services Division of Patton Construction Company in Atlanta.

Education: Auburn University
DIANA POTTS
MARILYN MARGOLIS
LEE DAWKINS
KEVIN CARROLL