The Johns Creek Chamber helps grow businesses by offering resources, education, and support to enhance their knowledge and skills, expand their networks, and increase their visibility and credibility in the community.
The Small Business Resource Center
The Small Business Resource Center (SBRC) is a dedicated space where entrepreneurs and small business owners can access a wide range of resources to help them start, grow, and manage their businesses. Our SBRC is designed to provide support to small business owners who may not have access to the resources or expertise they need to succeed on their own. Our goal is to offer a location, with an individual approach, to assist with your vision of successfully operating your business while helping you Connect, Grow, and Thrive in Johns Creek. Check out more information about the SBRC here.

Chamber 101 - New Member Orientation
Information session offered to new and existing members to help utilize their membership to its full potential. Session includes Chamber history, organizational structure, means for involvement and webpage portal advice. Check the calendar for upcoming dates.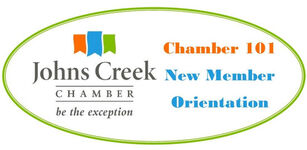 Marketing for Members Program
Our Partnership With Clear Channel Outdoor Allows Us To Provide Discounts For Electronic Billboard Space In Johns Creek

$500 - Ad Location Will Rotate On 8 Boards For 28 Days. ($4,000+ Value)

Our Partnership With Neighborhood TV Allows Chamber Members To Get Their Business Next To Premium Micro-Local Content In Your Neighborhood, Inviting Customers Into Your Business.

Starting At $500/Month - Your Ad Will Play On Neighborhood TV's Platform With 12,000 Guaranteed Impressions.

Chamber Website Advertising Space Available.

$150 - Ribbon Ad Runs Under Chamber Header For 90 Days.

Sponsorship Opportunities
Sponsorship opportunities can be incredibly beneficial for small businesses looking to grow their brand awareness and customer base. By partnering with the Chamber, businesses can gain access to a larger audience and potentially new customers who may have never heard of their brand before. Sponsorship can provide valuable networking opportunities and the chance to build relationships with other businesses in the same industry. Sponsorship opportunities can help a small business gain visibility, increase their customer base, and establish themselves as a reputable and valuable player in their industry.
We have a variety of marketing and sponsorship opportunities all year long, contact us to learn more!
Monthly Member Meeting Breakfast & Lunch Meetings
The Johns Creek Chamber of Commerce arranges a series of breakfast and luncheon meetings held at various times during the year. These meetings cover diverse topics, often focusing on current events within the Johns Creek area or the state of Georgia. It's an excellent chance to enjoy a meal, engage with other members and guests, and gain valuable insights and knowledge. These gatherings offer an opportunity to stay informed and connected within the local business community. Monthly Member Meeting Breakfasts/Luncheons are typically held the 3rd Thursday of the month. Check our calendar for updates. Locations vary.
Educational Lunch and Learns / Seminars / Workshops
Educational seminars over lunch supporting the professional development needs of members. Programs include, social media workshops, Chambermaster instruction, sales and marketing.
Also included is the semi-annual program Chicks-In-Charge. A full day of learning and storytelling from women in all industries and professional levels.