The Johns Creek Chamber helps members thrive when participating in chamber annual events as it allows them to connect with potential customers and partners, learn about industry trends and best practices, and showcase their products and services, which can lead to increased visibility, credibility, an increase in community engagement, and ultimately, business growth.
Ground Breaking Ceremonies
Ground breakings are a ceremonial event that mark the beginning of construction on a new building, infrastructure, or development project. The event usually invovles a group of diginitaries and special guests gathering at the construction side to symbolically break ground with our fancy gold shovel! The ceremony typically includes speeches, refreshments, and photo opportunities for attendees. Ground breakings provide an opportunity to celebrate the start of a new project and the potential it holds for the community.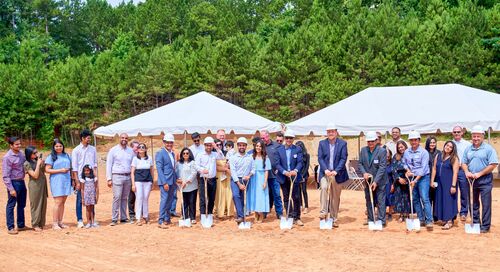 Ribbon Cuttings Ceremonies
Ribbon cuttings are a ceremonial event held to celebrate the opening of a new business, organization, or public facility. The event involves speeches, photo opportunities, and refreshments. When everyone is settled in a Johns Creek Chamber ribbon is stretched across the attendees, which is then cut with our big scissors by special guests or dignitaries. Ribbon cuttings provide an opportunity for the community to welcome and support new ventures, while also showcasing the hard work and dedication of the owners. Whether you're a small boutique or a large community center, ribbon cuttings are a great way to mark the beginning of a new chapter!
The Johns Creek Chamber staff would be happy to assist you in planning a ribbon cutting. Please contact the Chamber at (770) 495-0545.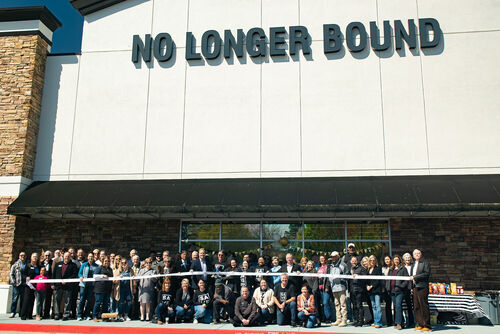 Chicks in Charge
Chicks in Charge is a full-day event open to both women and men, designed to empower women in leadership. The event features presentations by successful female leaders from various fields, sharing their personal journeys and insights through 45-minute presentations. Attendees can ask questions after, fostering engaging and insightful discussions. Held in a conference setting, this forum provides valuable insights for aspiring leaders and established professionals, offering a unique chance to connect, learn, and be inspired by women who have achieved remarkable success in their respective fields.

The Annual Golf Classic
The Annual Chamber Golf Classic, a highly anticipated event, serves as an excellent opportunity for networking and relationship-building while enjoying a day of friendly competition on one of Johns Creek's scenic golf courses. This annual golf tournament brings together golf enthusiasts, amateurs, and professionals of all skill levels. Prizes and awards are presented in various categories, creating a festive atmosphere with food, drinks, and sometimes raffles and other activities. Beyond the fun, the golf classic also acts as a significant fundraising event, supporting other events throughout the year. Whether you're a seasoned golfer or a beginner, participating in this event not only strengthens your business but also shows your support for the business community's well-being.
The Annual Health & Wellness Expo
The Johns Creek Health & Wellness Expo unites healthcare providers and the Johns Creek community, offering a comprehensive showcase of wellness services, elder care, preventative options, and more. With healthcare being the city's top industry, the expo empowers families with valuable knowledge for maintaining health and safety. Attendees can engage in activities promoting healthy living and disease prevention, such as stretch demonstrations and cholesterol blood glucose screenings. This event serves as a vibrant learning hub, fostering connections among health enthusiasts, medical professionals, and wellness experts. It's an unmissable occasion where attendees can embark on their wellness journey, supported by a caring community.

The Community Expo
The Community Expo is a highly anticipated event that brings together diverse exhibitors across various industries. With an array of exhibits, demonstrations, and occasionally activities, attendees can explore different booths, learn about local products and services, and connect with community leaders and influencers. This event serves as a platform to promote community pride, celebrate its diversity, and foster a sense of pride and belonging among residents and business owners. Whether visitors seek to discover new products and services, network with local business owners, or simply enjoy the community atmosphere, the Community Expo offers the perfect occasion to come together and celebrate all that the community has to offer.

The Annual Gala
Every year, the Chamber organizes its Annual Gala, a momentous occasion that celebrates past achievements, showcases the vision for Johns Creek's future, and brings people together. What makes this gala special is its refreshing approach, prioritizing an engaging and enjoyable atmosphere over mundane formalities. The event is a formal affair, with a seated dinner, Chamber Awards Ceremony, and captivating live entertainment. Esteemed guests, including the chamber's board of directors, chairman circle members, elected officials, chamber members, and other distinguished figures, add to the grandeur of the event. Attendees and the planning committee alike agree that the gala is an eagerly anticipated and thoroughly enjoyable experience, filled with sheer joy and excitement.